Description
IFI Pivot | Vertical Refrigerated Display for Gelato, Pastry & Praline
Pivot is Ifi's vertical refrigerated display dedicated to the most demanding gelato, pastry and praline professionals. Pivot combines product display and preservation with hygiene and maximum functionality.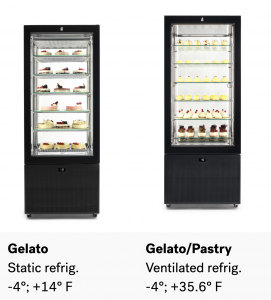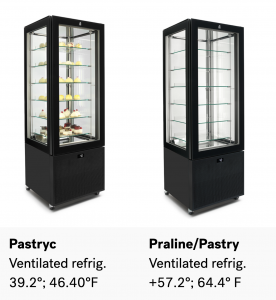 Pivot is studied to meet the needs of professionals:
– Excellent preservation
– Maximum visibility of displayed products
– Great display capacity
– Easy maintenance
– Unprecedented hygiene
– Strong focus on energy savings
An element of innovation, the introduction of heated tempered glass panes on all four sides: a fundamental implementation in favor of the organoleptic qualities and presentation of foods. In Ifi's vertical project, everything was designed for the professional: the bottom-up ventilation mode gives a greater display volume; the door with foldaway handle and the self-closing system offer maximum ergonomics and the least dispersion of cold air towards the outside. The adjustable internal internal shelves go from five to six and allow uniform ventilation inside what we can define as the "highest" expression of the vertical refrigerated display.
Technical features:
· Anti-condensation system with double heated glasses;
· Anti-fog system;
· Condenser with filter;
· Self-closing system;
· New supporting system for internal shelves;
· Integrated LED lighting.
Download Brochure