Description
Friulinox HICHEF- Blast Chiller Shock Freezer
The latest technology that enable users to operate different and complementary activities with a single blast chiller freezer machine.
Turning commercial kitchen into an efficient and productive environment .
5 HiChef Features by Friulinox
Blast Chilling: With blast chilling it is possible to plan preparations in advance. Increases productivity while maintaining the flavour, appearance and weight and eliminating the risk of intoxication.
Blast Freezing: Blast freezing allows the purchasing of products at their best in terms of freshness, maturation and availability on the market and to preserve intact all the peculiarities.
Thawing: Being able to control and determine to thaw of a product means keeping intact the organoleptic characteristics and optimizing stock, avoiding unnecessary waste.
Retarder Proofing: Flexibility in "just in time" production is the best way to optimise resources, manage time and to respond to the variability of demands.
Slow Cooking: The control of temperature and its maintenance within the predefined values allow preparations which safeguard not only taste and flavour but also succulence and tenderness ensuring truly exciting results.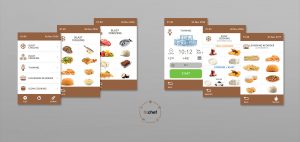 Blast Chiller Shock Freezer Technical Details:
Abatement capacity in 90 ': 18 Kg (+90> + 3 ° C)
Freezing capacity in 240 ': 12 Kg (+90> -18 ° C)
External Dimensions: 790 x 750 x 850 mm (WxDxH)
Trays Type – Grills: GN1 / 1 600X400
Baking capacity: Step 4 – 5 – 6 mm
IPS TOUCH capacitive 7 "HD display
Download PDF for more information on the Friulinox HiChef 
Download Brochure